Thousands of cats are still not being microchipped, says RSPCA
Pet owners are being urged to microchip their cats as the RSPCA figures reveal almost nine out of ten moggies coming into its care are not chipped.
By law dogs have to be microchipped however cats do not which makes it much more difficult to discover if they have an owner and then reunite them.
The RSPCA is urging loving owners to make sure they microchip their cats as  87% of cats brought into the RSPCA national centres in 2017 did not have a microchip.
Caroline Allen, the director of the RSPCA's London Hospitals, said: "We see heartfelt stories where cats have been reunited with their owners after a few weeks, a few months or even a few years because we were able to trace them with the microchip details.
"However, there are thousands of cats coming into our care with no microchip at all, or details which are not kept up-to-date, meaning there are lots of cats who are unlikely to ever see their owner again. It's absolutely heartbreaking."
New figures show that 5,647 cats came into the 17 national centres* in England and Wales between January and December 2017, there were 4,896 cats who were not chipped.
This means only 13% of cats were microchipped and many of these did not have up-to-date details recorded.
Caroline Allen added: "Not only are a lot of cats still not being chipped but during one week last summer, our London veterinary hospitals had nine cats with out-of-date microchip details making it extremely difficult to track down their owners.
"Microchipping your pet is vitally important in ensuring that if anything happens to them, if they are lost or stolen, or hit by a car, then they can be returned to you.
"Despite our best efforts to find an owner, the most reliable way to identify a cat is to have him or her microchipped. If the contact details are out of date the chip is completely useless so it is vitally important to tell the chip company yourself if any contact details change.
"We see cases where we would love to reunite microchipped cats with their owner but can't because the details have not been updated.
"We also find that many people don't realise that the chip is just a number that cross references to a database. If the information on that database is old and out-of-date then the chip is useless. Telling your vet does not automatically update the details on the database but this is something you can do yourself online.
"Out of date chips can often be worse than no chips at all as the cats spend weeks in the cattery while we are desperately trying to chase details and send letters before we can rehome them."
Gizmo, [pictured above] a ginger cat with a microchip which showed an address and number in Poland was found straying and poorly with diarrhoea, dehydration and a distended abdomen. As the microchip was registered to a Polish database, the staff believe the owners of the cat did not update their details when they moved to the UK. RSPCA Putney Animal Hospital where the ginger moggy is currently being treated is still trying to trace an owner but have had no luck.
These cats [pictured right] were brought into RSPCA Harmsworth Animal Hospital at the end of last year.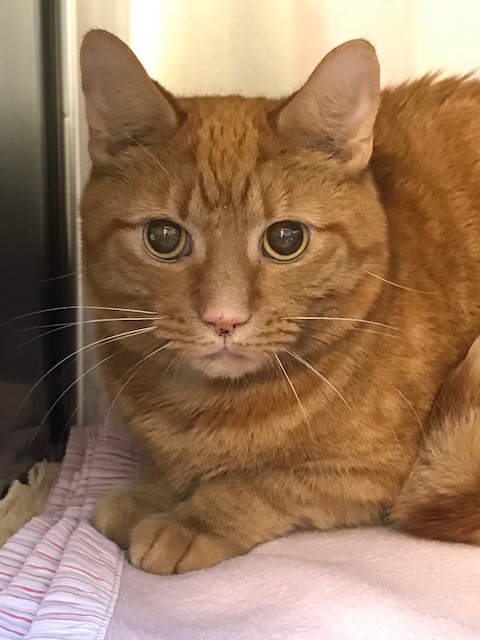 Ginger cat Harley had no microchip or collar and was found with a fractured toe. Efforts to find an owner have not been successful and seven-year-old Harley is still at the hospital currently receiving treatment.
Four-year-old Elvis came in with a fractured pelvis and had no microchip but was wearing a collar. He went to RSPCA Southall Cattery in December (2017) and as an owner was never found he is now looking for a new home.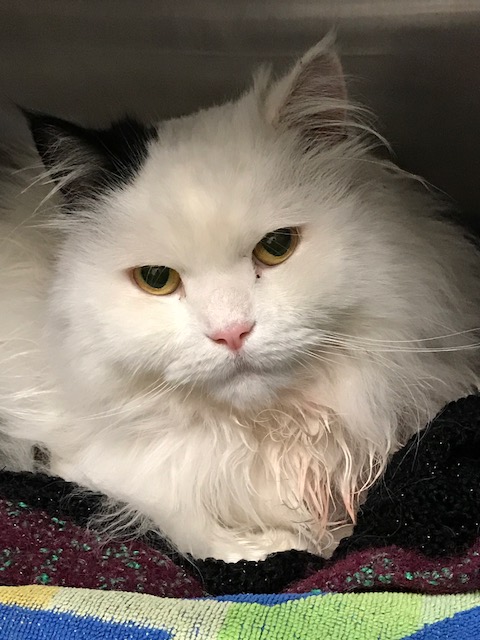 Casper [above] was suffering from a burst abscess. He was microchipped but there was no response to letters posted to the registered address and the telephone numbers provided were incorrect. The four-year-old cat was transferred to the RSPCA Finchley Branch in September last year and later rehomed.
Bruce, four-years-old, was brought in to Harmsworth hospital with lameness in December (2017) and due to a severe injury sadly needed to have the leg amputated. There was a microchip but this was registered to a previous owner and the current owner could not be traced. Once he had recovered he was transferred to RSPCA Southall Cattery before finding his forever home.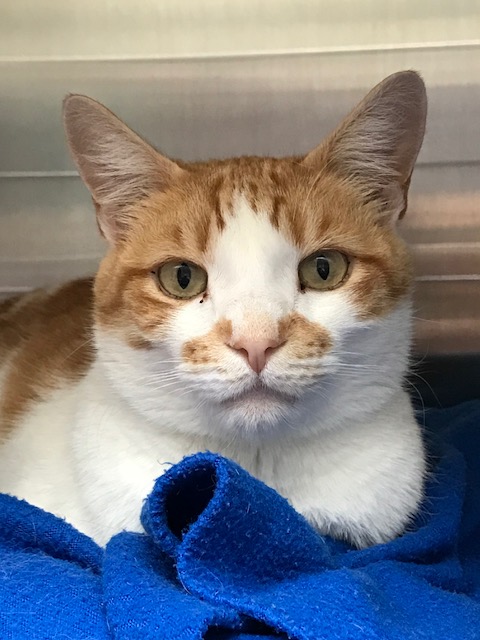 Eleven-year-old Misty arrived at the hospital with a rotten tail which was covered in maggots and needed to be amputated. She did have a microchip and was brought in by a member of the public who was not her owner but lives at the address the cat was registered to. It would appear as though the owners had moved and not updated their details. Misty was also transferred to Southall where she was rehomed.
The RSPCA microchips every cat we rehomes strongly recommends that every owner gets their cat microchipped and keeps the details updated. To find out more about microchipping your pet visit our website.
If you recognise Gizmo please contact the RSPCA Putney Animal Hospital on 0300 123 0716 and for Harley call the RSPCA Harmsworth Animal Hospital on 0300 123 0712.
*These figures are only for the national centres and do not include the number of cats coming into RSPCA branches across England and Wales so the numbers could be higher.
Advertisements
The full range of Necoichi raised bowls and accessory now available @ Katzenworld Shop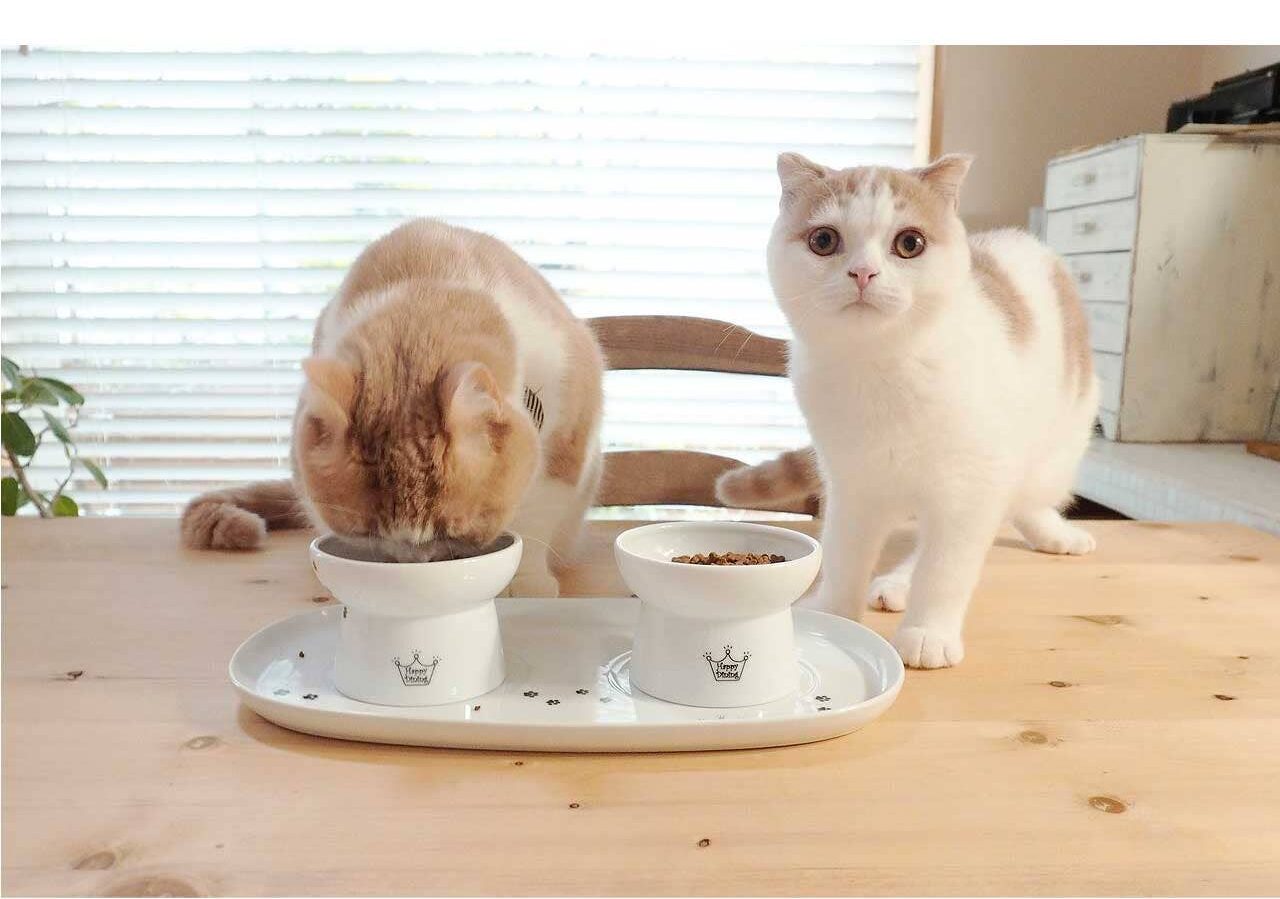 Guest blog posts on all things cat-related from the RSPCA