Does my cat want to kill me?
Have you ever noticed your cat watching you suspiciously as you go about your day-to-day business? Or spotted him giving you the eyeball while you leisurely bathe? You might think it's the look of love and that your fluffy friend adores you, but secretly your cat is plotting your downfall – working out the best way to get rid of "his annoying owner".
Why Is My Cat Trying to Get Rid of Me?
Cats like to be in charge, that's for sure. Given the opportunity they would be more than happy to take the throne, pop a crown on their head and rule the entire world. And what about us, their adoring caretakers? We are just their subjects, expected to serve – to stroke their ears, provide tasty treats and amuse them with a toy mouse on a stick.
We do so much for our pets because we love them, but don't expect the same adoration in return. If you are a useful and entertaining human your cat might put up with you, but deep down they know that with you out of the way they would have the run of the place. No more being kicked off the warm and comfy armchair so you can sit your lazy butt down and no more dry and bland nibbles for breakfast – the smoked salmon in the fridge is fair game when there's no pesky human around!
Should I Be Scared of My Murderous Moggy? 
You wouldn't invite a lion or leopard to curl up at the bottom or your bed, or welcome a tiger onto your lap–but your pampered pussycat is offered all this and more.
It's easy to forget that your pet cat is a predator at heart, just like it's menacing feline relatives.
Let's think about that for a moment, lions and tigers, cheetahs and leopards – they are all known for their ability to stalk their prey, before tearing it apart and eating it up. Your beloved pet may seem like a cute ball of fluff, but underneath it all you will find sharp teeth and claws combined with a killer instinct. Be afraid, be very afraid.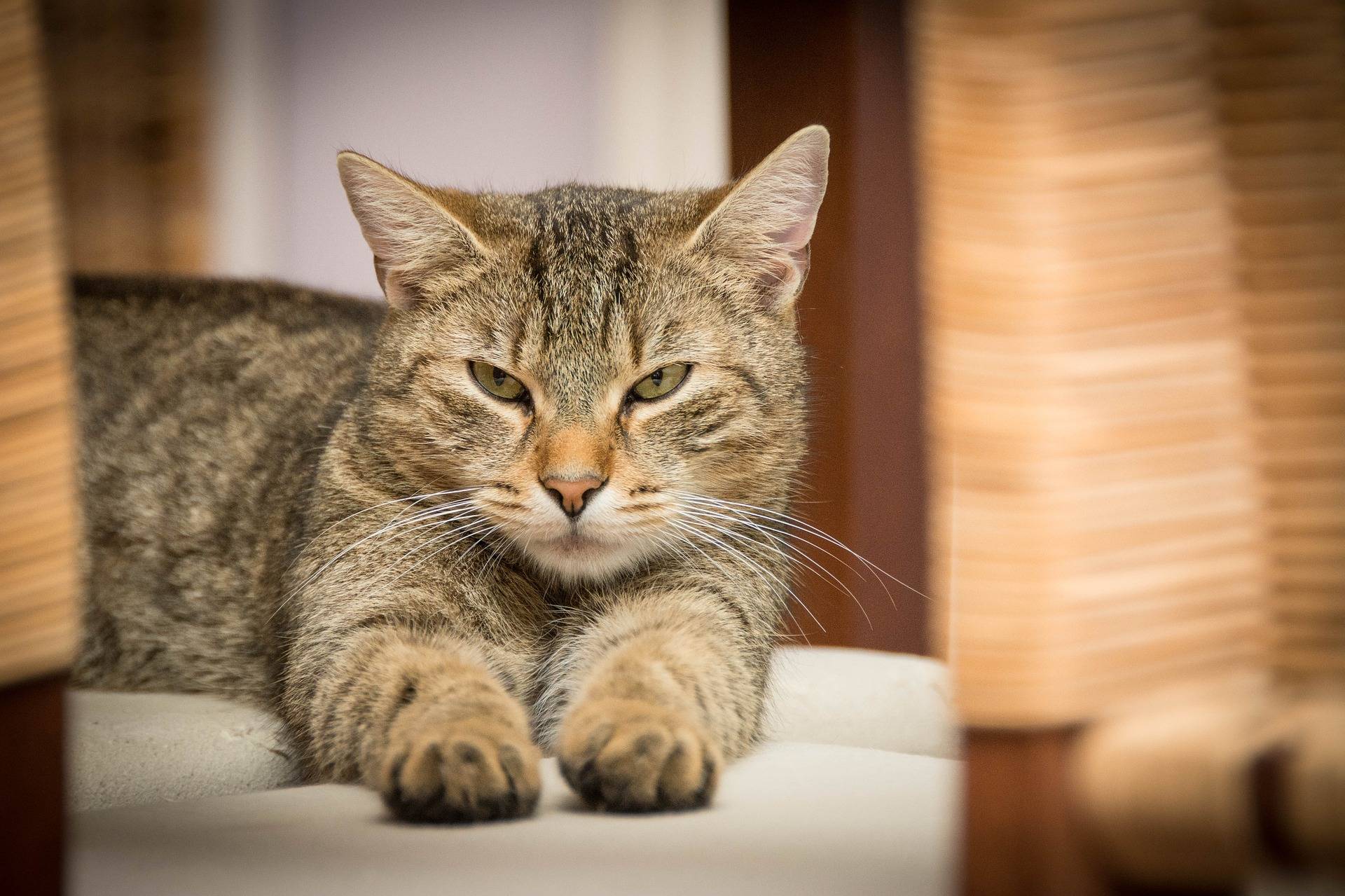 What Can I Do to Survive (and Make My Cat Like Me)?
So why hasn't Tiddles kicked you out yet? The good news is that your kittycat probably has a soft spot for you, after all you provide a warm home, nice food, refreshing water and all the finer things in life he has come to expect. You need to make sure you keep on meeting his demands (if you want to stay alive)!
Respect his boundaries and if he wants to claw your lap sometimes, accept it as a bit of horseplay – or rather cat-play (despite it stinging like hell)! Think yourself lucky that your cat is allowing you to share his home and remember you are honoured to be in his presence.
While your overprotective cat stretches out on the rug, we suggest that you get busy and prepare his favourite tuna dish.
If you're lucky, he might let you live to serve a little longer…
*No humans were harmed in this fun post. Please take everything with a pinch of salt!*
We regularly write about all things relating to cats on our Blog Katzenworld!
My partner and I are owned by five cheeky cats that get up to all kinds of mischief that of course, you'll also be able to find out more about on our Blog
If you are interested in joining us by becoming a regular contributor/guest author do drop us a message @ info@katzenworld.co.uk .