Hi everyone,
In our continued effort to source content on cat health we came across this fantastic infographic by Ally Hirschlag from sheknows.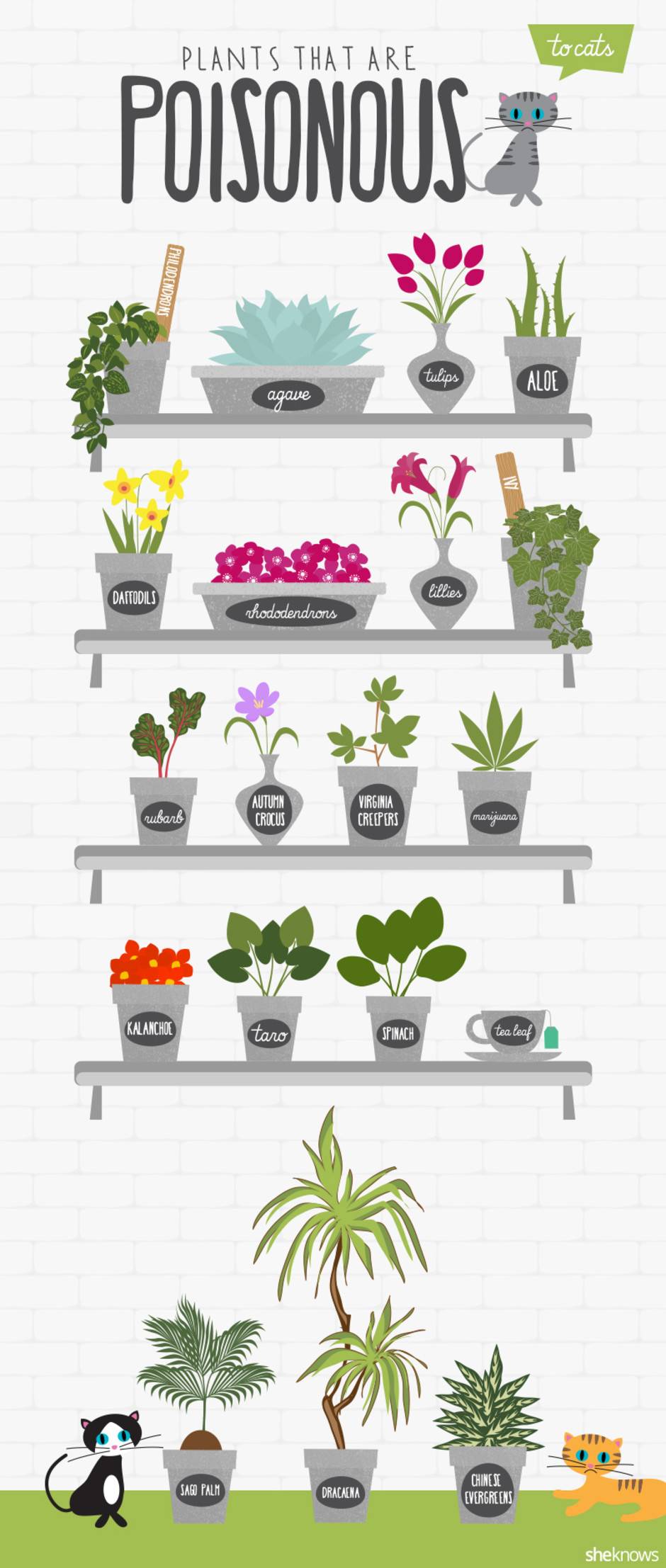 1. Lilies (all varieties)
Little known fact is that cats don't even have to ingest this plant. Often it's enough to brush against the pollen of this plant to poison your feline companion….
2. Any calcium oxalate plants — including philodendrons, Chinese evergreens, Virginia creepers, spinach, agaves, tea leaves, rhubarb and taro
The poisonous part of these indoor and outdoor plants are the microscopic needle-like barbs on their stems and leaves. If bitten, they cause inflammation in the mouth and gums and result in excessive drooling and vomiting. – by Ally Hirschlag
While some of this may be treatable at home it's advisable to seek assistance from a vet immediately.
3. Dracaena plants
There are about 40 varieties of this popular, leafy houseplant, including the dragon plant. If cats eat the long fronds typical of these plants, they'll become depressed, lose their appetites and possibly even vomit blood. However, it's usually not a fatal reaction, and symptoms tend to go away after 12 to 24 hours. Still, you should keep an eye out for worsening symptoms, and take your cat to the vet if it doesn't start to recover after 24 hours.- by Ally Hirschlag
4. Autumn crocus
This plant is extremely poisonous and if your pet has eaten any of it there is a strong possibility for severe symptoms such as vomiting, diarrhoea, seizures and resulting in possible liver or kidney damage and even heart arrhythmia.
If you suspect that your cat digested this plant get them to a vet immediately!
5. Daffodils
It's little known that these are actually very poisonous! Ingesting any part of this plant can cause vomiting, diarrhoea but also more severe issues such as arrhythmia, convulsion and major drop in blood pressure. Immediate vet attention is necessary!
6. Tulips
While these are not fatal for your cat they are still a big no-no for your cat! Especially the bulb is poisonous but so are other parts of the plant and can cause oral irrtaiton, excessive drooling and nausea.
7. Sago palm
Again this plant is an extremely poisonous one for your cat! While the seeds and pods are the worst any part of the plant can cause bloody vomiting and diarrhoea, bleeding disorders, liver failure and death.
If you suspect your cat got in contact with this plant take immediate action and call your vet!
For details on the remaining plants please check out the post 12 toxic plants that cat owners should not keep in their house by sheknows.
Also there is a very good list of poisonous plants on the ASPCA website.
Never want to miss an update again? Sign up for our newsletter by clicking here!
Thanks,
Marc
Advertisements
Click to visit our Shop for the hassle-free Zen Clippers!
We regularly write about all things relating to cats on our Blog Katzenworld!
My partner and I are owned by five cheeky cats that get up to all kinds of mischief that of course, you'll also be able to find out more about on our Blog
If you are interested in joining us by becoming a regular contributor/guest author do drop us a message @ info@katzenworld.co.uk .