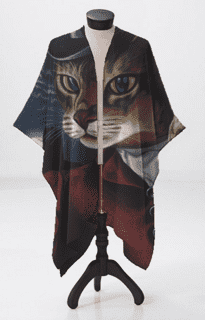 A couple of weeks ago I launched my new designer collection with Vida Voices.  I was particularly impressed with Vida's ethics including setting up a reading programme for their makers.  For their 'Voices Collection' I chose four of my strongest female felines: Matilda, the intrepid explorer and pioneering aeronaut from Owl and Pussycat II; my beautiful Ginger, cat burglar and jewel thief from Carolyn 'Ginger' Grant; Tilly the keen ornithologist and equal rights campaigner from Owl and Pussycat and Flotty, gang leader and folk hero who embarked on a life of bootlegging, hijacking, robbery and smuggling with her brother Flynny and the rest of the Mongnificent Seven Gang.
My good friend Auntie G helped bring my characters to life in designer clothing, and so we have a selection of wraps, tops
Scarves
And bags
and for the discerning gentleman a Mognificent Seven pocket square.
In my first tweet about the collection I called it 'wearable art'.  One of my friends on Twitter kindly pointed out 'Wearable art – here we call it fashion'.
I hope you like my new collection at Vida
For more about the stories behind my fabulous felines see Owl and Pussycat II, Carolyn 'Ginger' Grant, Owl and Pussycat, The Mognificent Seven
Advertisements
Click to visit our Shop for the hassle-free Zen Clippers!
My work illustrates my love of ironic juxtaposition, and my interest in Victorian and Edwardian colours, with my series of human-form animal portraits. A typical example of my work is 'The Aviator': a penguin in early period pilot's uniform at the North Pole. Or to put it another way, a bird that can't fly dressed in flying kit and standing at the wrong end of the world.
Within three months of exhibiting for the first time U was picked up to be included in two contemporary urban auctions alongside Damian Hirst and Banksy by Dreweatts in 2012.
For private commissions, murals and sign writing get in touch. Lots of prints of furry felines and pugnacious pooches available on the web site. Plus the odd pesky bi-polar penguin and a pampered panda.