Hello everyone,
Today I'd like to introduce you to a fabulous range of cat themed Lifestyle products from a company called Paprcuts who produce their items in  Germany of all places. :o)
From make-up bags to wallets and phone covers they have got them all! 😀 Below just some of our favorites
From Grumpy Cat Make-up bags to…
…Laser-eye kitty bags!!!! 😀 (14.99 EUR)
Or maybe a Laser-Eye cat wallet? 🙂 (16.99 EUR)
or if you prefer Grumpy cat how about this wallet? (16.99 EUR)
They even do smartphone pouches! I really really want the Laser-Eye super hero cat LOL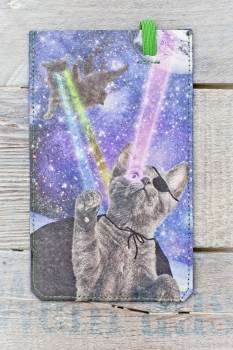 Of course they don't just do cats so you may find nice presents for those of your friends that are not cat fanatic. (Or maybe you should try to convert those and get a cat themed one anyway!!! :o)
More about Paprcuts:
Lifestyle products – Handmade in Berlin. Not in ???. Why? Because it's possible to produce regionally. Working conditions should be healthy, safe and fair. That's what we stand for.
Small and produced with fancy designs: The new accessory collection of Paprcuts, Berlin. Made of tearproof paper* – it's super thin, light as a feather, even waterproof and lasts forever! Do we shock you by saying it's recycled artificial fibers and also 100% recyclable? Awesome stuff by the Berliners. Add more colour into your pants.
* Tyvek Paper, if you'd like to get to know more about the material click here.
Postage is available to many countries worldwide and the exact locations and costs can be found here.
We hope you enjoyed the items of their cat range and are looking forward to more posts here at Katzenworld. 🙂
P.S: Don't forget to sign-up for our Newsletter by clicking here.
Thanks,
Marc
Advertisements
Click to visit our Shop for the hassle-free Zen Clippers!
We regularly write about all things relating to cats on our Blog Katzenworld!
My partner and I are owned by five cheeky cats that get up to all kinds of mischief that of course, you'll also be able to find out more about on our Blog
If you are interested in joining us by becoming a regular contributor/guest author do drop us a message @ info@katzenworld.co.uk .