Hi everyone,
Today we would like to introduce you to the wonderful cat range from Bits of Australia! They produce loads of fantastic gifts so well worth checking them out!
Here are just some of the items in their cat range:
Which one in the gallery is your favourite? We are personally very torn between the chubby tuxedo and the black cats haha. 😉
Bits of Australia

 – www.bitsofaustralia.com.au – was founded in April 2014 by Micaela Smith, after living in the UK and then returning to Australia, and finding it near impossible to source authentic Australian-made gifts and souvenirs for family and friends. 

Bits of Australia brings together a wide range of handcrafts, homewares, jewellery, fashion accessories, stationery, toys and souvenirs that are designed and made right there in Australia. 

Bits of Australia is dedicated to promoting Australian-made products, artists, designers and organisations both locally and to the world. Shipping within Australia is free for orders over $30 and we offer a flat rate International shipping fee of $15.
As for the giveaway… ONE of you lucky readers has a chance to win the
Crazy Cat Lady brooch AND…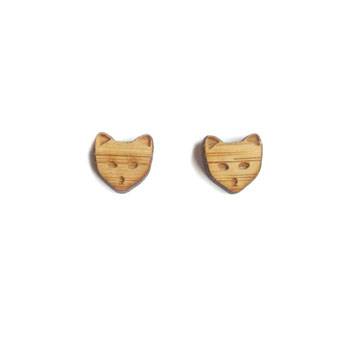 … the matching earrings. 🙂
Giveaway Rules:
Just pop your email address into our giveaway tool by clicking here and gain chances to win by doing any of the following (you can complete as many as you like to increase your chances of winning):
1. For Tweeting about the event through the GiveawayTool – 4 Chances
2. Sign up for our new newsletter via mail chimp for extra chances. (Bonus chances even if you don't use Social Media!!!) – 5 Chances
3. Follow us or Bits of Australia on Twitter – 4 Chances
4. Follow us or Bits of Australia on Pinterest – 1 Chance
5. Visit us or Bits of Australia on Facebook – 1 Chance
6. Follow us on Bloglovin – 2 Chances
7. Make a comment stating you would like to enter (for those that don't use social media) – 2 Chances
The giveaway will run for 2 weeks until August 11th 2015.
And now don't forget to enter the giveaway here. 😀
Never want to miss an update again? Sign up for one of our Newsletter options by clicking here!
Thanks,
Marc
Advertisements
Visit our Shop for top-quality cat toys and cat lover products!
We regularly write about all things relating to cats on our Blog Katzenworld!
My partner and I are owned by five cheeky cats that get up to all kinds of mischief that of course, you'll also be able to find out more about on our Blog
If you are interested in joining us by becoming a regular contributor/guest author do drop us a message @ info@katzenworld.co.uk .