Hi everyone,
Please find below a story from our friends at CATS Protection who have recently rescued an overweight cat. Good luck Muffin in finding your forever home! 🙂
A podgy puss who tips the scales at nearly twice her ideal weight has a double challenge ahead – shed the pounds and find a new home.
Eight-year-old Muffin was taken in by Cats Protection's National Cat Adoption Centre in Lewes Road, Chelwood Gate, because her previous owner had moved and could no longer keep her.
Weighing in at a hefty 9.9kg, the tortoiseshell moggy is nearly twice her ideal weight of 5kg and has been placed on a special diet to help her slim down.
Although she is severely obese, Muffin has no other health problems and staff at the centre say they've been charmed by her sweet-natured personality.
Cats Protection's Field Veterinary Officer Vanessa Howie said Muffin was immediately placed on a special diet to help her reach her ideal weight – a process that could take up to a year.
She said: "We've prescribed her a diet designed specifically for weight loss – it's lower in calories, higher in protein yet still nutritionally balanced.
"With cats it is very important to avoid crash diets as any period with no food can be harmful.  A gradual, steady decrease in bodyweight is ideal.
"Muffin has been set an initial target weight of 8.5kg and we'll monitor this closely, adjusting the amount of food given if necessary to ensure she has slow and steady weight loss.  It may take up to a year for Muffin to reach her ideal bodyweight.
"Like humans we should avoid allowing our cats to become obese.  Obesity can cause many health problems to develop including diabetes, urinary infections and heart disease.
"Overweight cats may struggle to groom themselves properly and they may suffer joint problems as a result of the extra weight they are carrying around."
Cats Protection's National Cat Adoption Centre Deputy Manager Tania Marsh said it was important Muffin's new owner strictly follows her special diet plan.
She said: "Muffin is such a sweet cat and will make a lovely pet. She is very friendly and would like a peaceful home with a garden so she can get plenty of exercise.
"Her new owner will need to be committed to measuring out her food and ensuring she follows her plan. Cats can sometimes overeat out of boredom or habit, and often a cat's demands for extra portions can be distracted by a bit of fuss and attention.
"So long as Muffin follows her plan she will not go hungry and her quality of life will be much improved once she has slimmed down."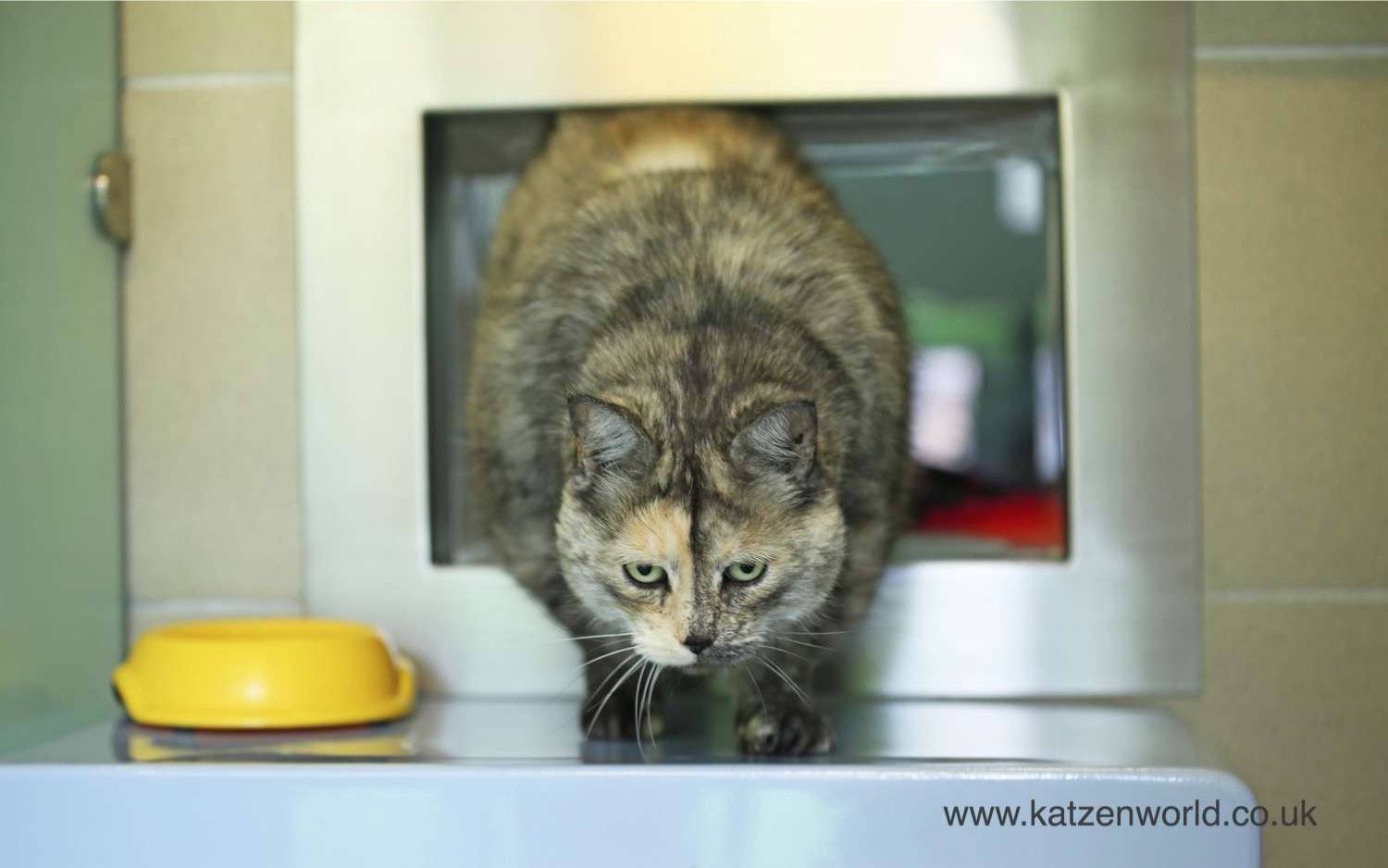 If you would like to offer a home to Muffin or any of the 200 cats and kittens currently in the care of the centre, please email cattery.reception@cats.org.uk
Alternatively, the centre is open to visitors seven days a week from 10am until 4pm. It is situated in Chelwood Gate, on the A275 between Wych Cross and Danehill.
To find using a SatNav, please use the postcode RH17 7DE, or for a map and directions please visit www.cats.org.uk/find-us/find-the-ncc

All photo credit goes to Cats Protection. Oh and if you haven't signed up to our Newsletter yet why not do so by clicking here.
Advertisements
Click to visit our Shop for the hassle-free Zen Clippers!
We regularly write about all things relating to cats on our Blog Katzenworld!
My partner and I are owned by five cheeky cats that get up to all kinds of mischief that of course, you'll also be able to find out more about on our Blog
If you are interested in joining us by becoming a regular contributor/guest author do drop us a message @ info@katzenworld.co.uk .