Hello everyone,
Today our two cats are reviewing a new treat from Webbox called Lick-e-lix.
Oh choices! We had three different flavours to choose from. Chicken, Milk & Yoghurt and Liver. Which one shall we go for Queen Nubsey? 😉
Nubia: Don't care! Just hurry up. :O
Oliver: Humans! There is a problem with these plates. They are still EMPTY. 😉
Oliver: Yummy!!! 😀
Nubia: Hmmm…. I'll wait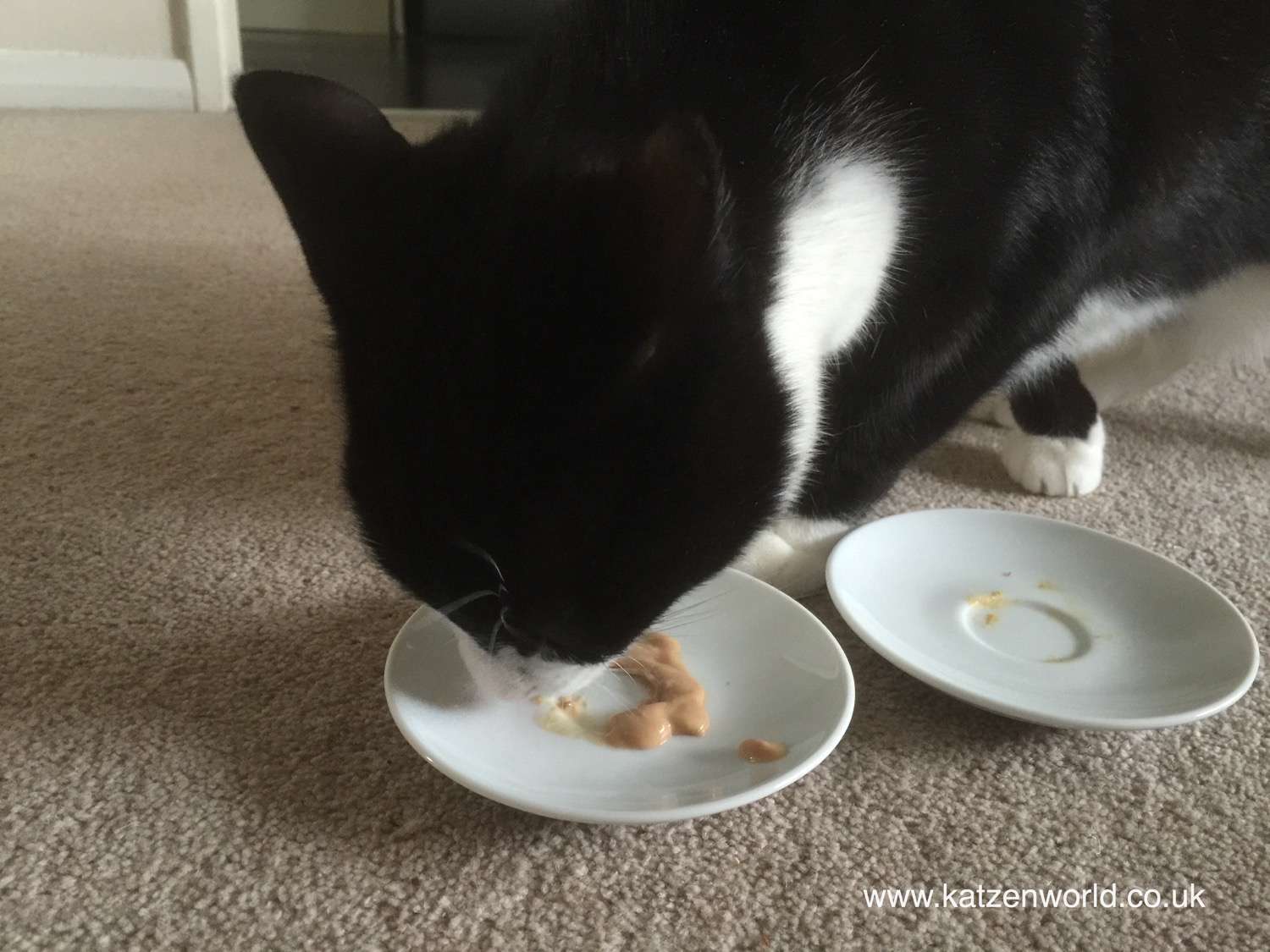 Oliver: Well if you don't want it Nubsey… I'll have yours too! :O
Nubia: Don't tell me that is chicken again…
Nubia: OMC! This one tastes nice!!! WHAT is it?!?
Marc: Liver! I will remember to buy some more of those for you. 🙂
As you can see both kitties found their favourite flavour in the end. Even Miss picky aka Nubia realised that Liver is tasty! 😀
Astonishingly even Nubia who isn't usually fond of liquid snacks loved one of the three flavours. And that surely makes a point if the Queen of all picky felines falls in love with one of the new flavours! Both cats come rushing to the kitchen now the second I get the packs down. 🙂
In total you have four flavours to choose from: Salmon, Chicken, Milk & Yoghurt and Liver and the whole range of Webbox treats can be found here.
Overall verdict:
We and the cats love the new range of Webbox treats. These treats contain Zinc and other nutrient that are beneficial for your cat while free artificial colours, flavourings and preservatives. Liquid treats are also especially good for those cats that don't drink enough water to give them an extra source of liquid. Also if you have a picky eater you can use this as a topping to flavour other food! And of course if you need to disguise medicine you can add it to this as well. 🙂
And if your cat is gentle put it on your finger and watch them lick it off! These are not called Lick-e-lix for nothing hehe. 😉
If you would like to buy your own they are available from most major supermarkets and pet stores in the UK as well as the Webbox online store and of course Amazon!
Here just a few options to purchase them:
Amazon US – here
Amazon UK – here
Amazon DE – here
Oh and please don't forget to sign-up for our Newsletter by clicking here.
Thanks,
Marc
Advertisements
Visit our Shop for top-quality cat toys and cat lover products!
We regularly write about all things relating to cats on our Blog Katzenworld!
My partner and I are owned by five cheeky cats that get up to all kinds of mischief that of course, you'll also be able to find out more about on our Blog
If you are interested in joining us by becoming a regular contributor/guest author do drop us a message @ info@katzenworld.co.uk .