Rufus, a very handsome Burmese cat,  was collected by his owners at a very important time and he had a big job to fulfill.  His human Dad had just come out of hospital and needed a few weeks at home to recover before going back to work.  It was Rufus' job to offer some cat therapy so that his Dad could make a full recovery as soon as possible.    Rufus' human Mum had always been a 'crazy cat lady,' so it was obvious that she would adore him immediately.  Rufus' Dad however had always claimed to be 'more of a dog person.'  Of course, this was about to change.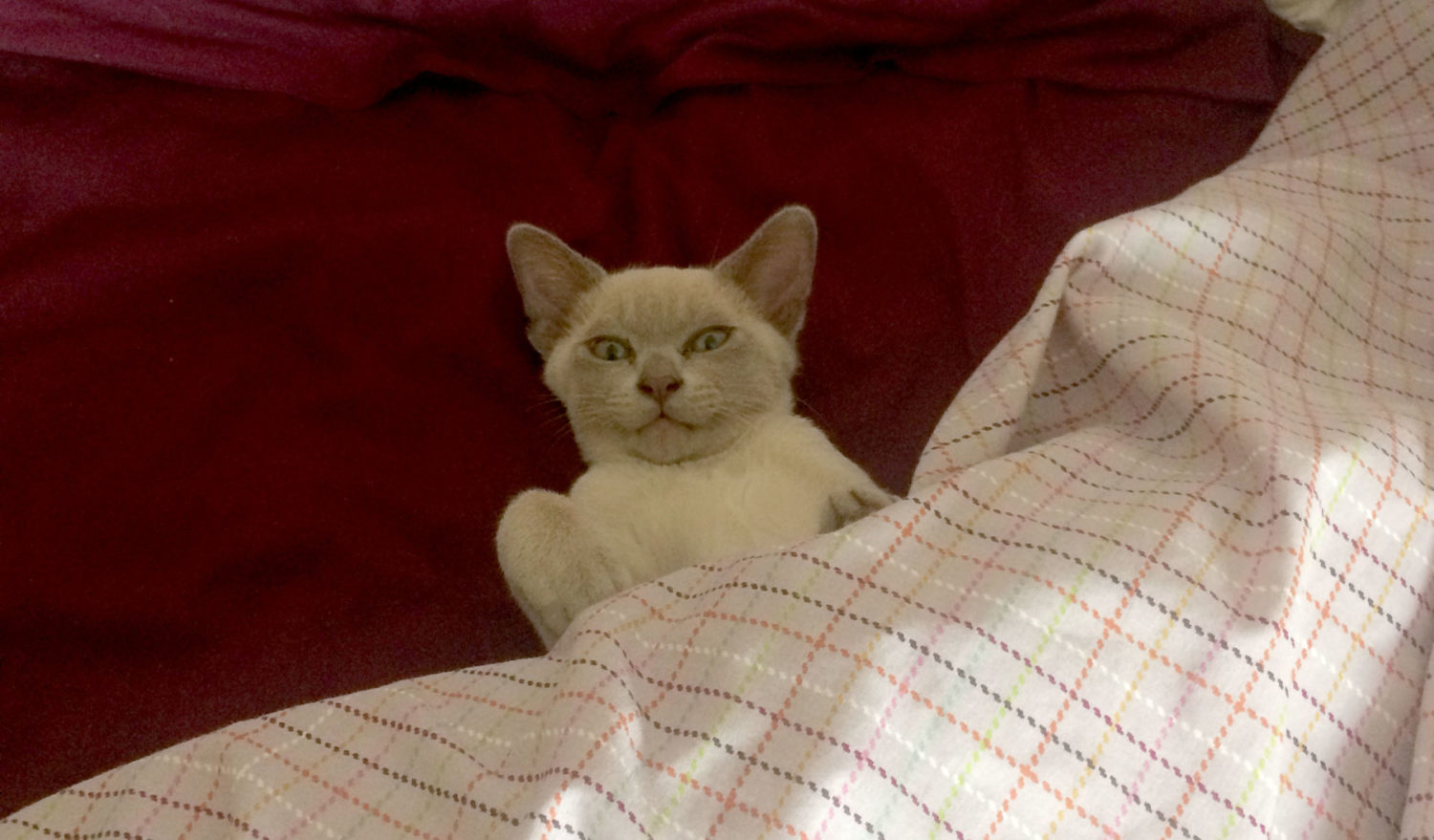 Rufus settled in his new home in no time and it was clear he was a cat who knew what he wanted.  The first day he arrived he kicked his expensive, sheep-skin cat bed downstairs in disgust and decided that he wanted to sleep in the bed.  Despite the plan being that Rufus would sleep downstairs at night, this changed immediately as he vocally made it very clear that he would be sleeping with his new human companions.
Within the first few days, he made his likes and dislikes clear so that his new-found human slaves knew what they would have to do to keep him happy.  He must have fresh cod at least twice a week, he must never be shut out of anywhere in the house, especially if this stops him being able to observe his human companions, he must be played with whilst his parents are on the toilet, he must be able to sit in the basin whilst his human's shower, he must have numerous toys all around the house and must not be expected to play with them by himself, his parents must play fetch on demand and the must feel privileged that Rufus wants to sleep under the covers with them at night.
As Rufus continued to grow, he became even more gorgeous (especially with the development of his deep amber eyes), he became more demanding, more affectionate and more adored by everyone who knew him, of course including both his human Mum AND his human Dad, who soon claimed that 'cat's were OK after all.'
Christmas was fast approaching and whilst Rufus loved the thought of playing with wrapping paper and ribbon, he wasn't such a fan of his bow.  It was clear that for Christmas, both Rufus' human Dad and Nan must have a Rufus themed gift – although they may not like to admit it, as if they would want anything else?  Having bought some Burmese cards from Denise Laurent at The Painted Cat a few months back, Rufus' human Mum remembered that she also did bespoke cat portraits.  Poor Denise must have received about 100 selected photos of Rufus!  Having discussed the style and size of painting we preferred, Denise selected the most appropriate four photos and created sketches to give us an idea of what each painting might look like. The sketches were already outstanding and it was so difficult to select just two!
But finally we were able to choose, with Rufus's help. After  so many discussions with Denise, and ideas about how to frame them, the paintings were finished and framed and they arrived for Rufus approval.
King-Pin Rufus had been captured so beautifully and the frames really complemented the paintings.  The gifts were totally appreciated and Rufus was also keen to pose for a photo with them too – he clearly expected nothing less than for Christmas to be ALL about him.
by Rufus
https://www.thepaintedcat.co.uk/
Facebook: ThePaintedCatArt
Instagram: @PaintedCat
Advertisements
Click to visit our Shop for the hassle-free Zen Clippers!
Artist, jeweller and cat lover. Cat owned and trained!