Sometimes it's hard to remember that your cat can be photographed doing lots of different things apart from being posed graciously upright and looking gorgeous.
My previous post about cat close-ups here at Katzenworld showed that if you are thinking beyond a posed portrait you can take a gorgeous picture, Now I want to present another way of 'looking' when photographing your cats.
Cats in Movement
This type of photograph will work well if your cat is lively, adventurous and a curious explorer. Today's model is Natasha who lives with me in New Zealand and she is one of the most active members of the feline family here.
This image shows Natasha walking, not just sat in a static pose. She is striding towards me and there is a sense of dynamism and movement in her firm walk forwards. I focused as much as I could on her head as this is what people will look at. Down at cat level a pose like this is made even more effective.
How did I take the picture?
I used 'sport' mode on my DSLR for this photograph. I wish I'd got her looking straight at my for more drama, but that's a cat for you. If you have a compact camera or smartphone both should have a 'burst' or sport mode. Check your manual if you can't find the setting on your camera. Burst mode takes a series of pictures very rapidly. Try it and see what happens.
Action Cat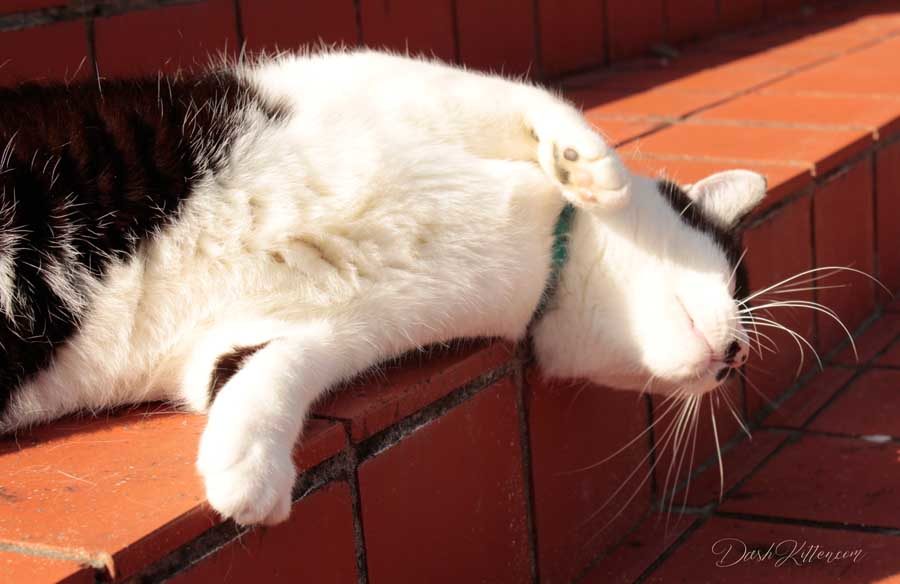 It is Spring in New Zealand and there is more sunshine so it is getting easier to capture the cats enjoying some outside time. I used sport mode for these photographs as Natasha was into action not beauty poses.
Both of the photographs here were taken on terracotta tiles which looks nice and warm and contrasts with Natasha's bright fur. The sun also highlights her whiskers against the shadow too in the picture above.
TIP: Remember the background can make a big difference to your picture.Try to remove clutter if you can.
Cat Crazy Poses
WARNING! You may end up crawling about at cat level and having a lot of fun if you do this.
Don't be afraid to venture into crazy cat territory. Cats scampering or stretching, rolling or curling, and cats doing 'cat stuff' upside down or on their backs like this cat photo of Natasha wriggling on the step.
Times like this are great for trying burst/sport mode. You will end up with plenty of blurry pictures that you might delete but you have a much better chance of a special, unrepeatable shot that was worth the effort you put in.
Now go and find that burst mode on your camera!
Advertisements
Visit our Shop for Lisa Parker merchandise!