Dirk has a new favourite treat. It's not just his favourite, he goes absolutely nuts for it! It's one of those 'OMG I'll do anything for you just give me that treat'-treats.
Comedus&Co launched their business at the LondonCats Cat Extravaganza. They sell luxury cat food & gifts, my absolute favourite – and not just mine – being Afternoon Tea to share with your cat: A cup and saucer for both you and your cat that comes with treats that you can share with your cat.
I'll give you a moment to wrap your head around that one 🙂
Yes, food that both you and your cat can eat.
Comedus&Co also sell treats that are specifically for cats only. They had venison and duck&chicken treats. Dirk is one of the lucky few who got their paws on some Comedus&Co duck&chicken treats shortly after they launched.
Quite a few cats at the Cat Extravaganza tried them too and I can only say they went down a treat 😉
He was curious from the moment I walked through the door with this lovely little black bag. In fact, he could hardly wait for me to give him some treats.
I can honestly say I've never seen him react to treats the way he does with these ones. Even his previous favourites are no match at all!
As I am a cat behaviourist I recommend using these to train your cats. Cats can certainly be trained, but it works best when they get a special reward to motivate them. Dirk is so eager to get this treat that he's much more tolerant of me brushing his teeth – just so long as I don't forget giving him a treat afterwards!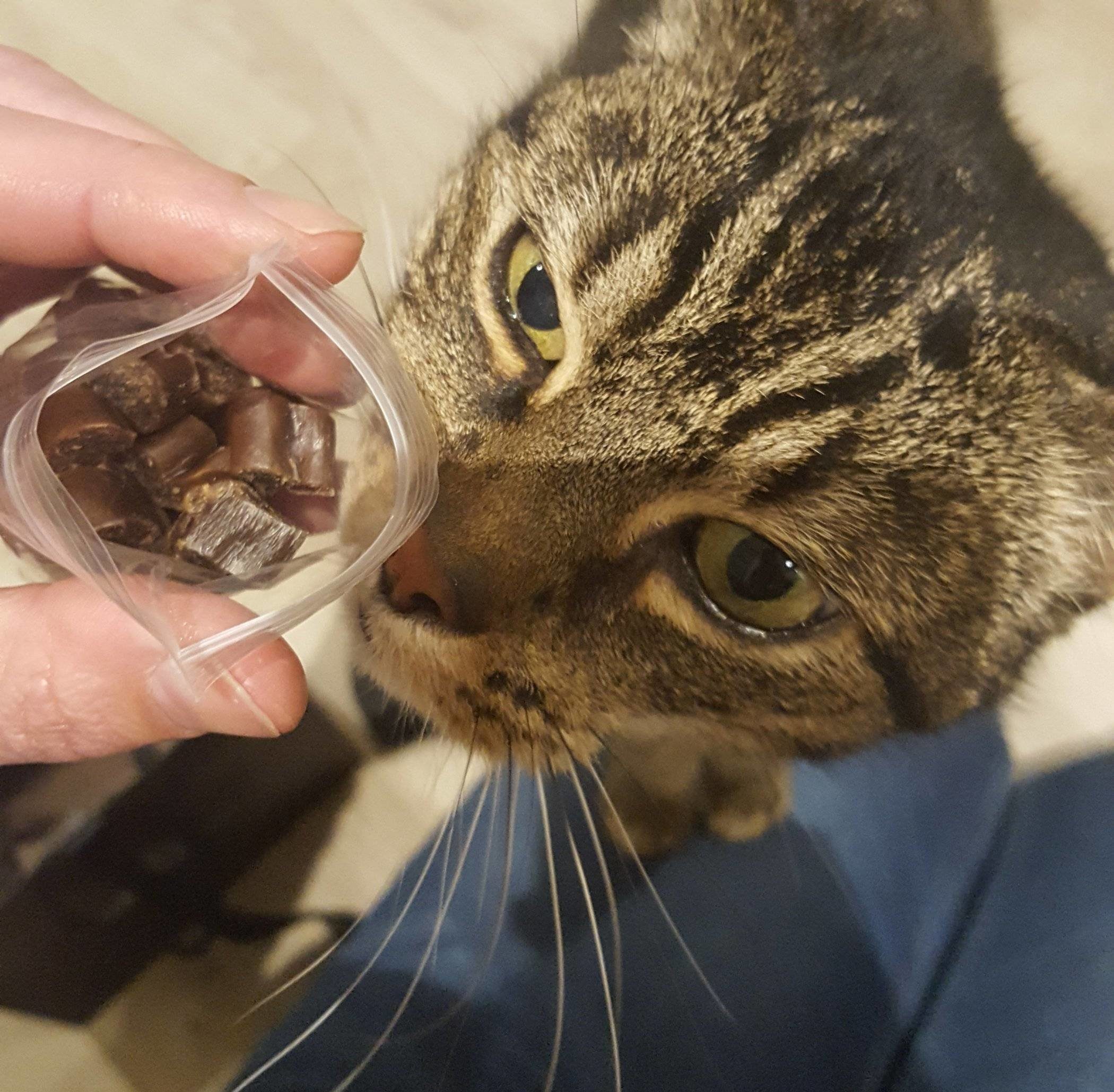 As Comedus&Co say themselves, these treat are for the most discerning of cats. Want proof?
One very special cat named Starina Esperanza give Comedus&Co her paw of approval 🙂
Advertisements
Visit our Shop for top-quality cat toys and cat lover products!
This is me with my lovely cat Dirk! Let me tell you something about both of us.
I work as a cat sitter and cat behaviourist for CitiKiti in London and am basically surrounded by cats 24/7!
Dirk is roughly 11 years old (I say roughly because he is a rescue cat). Dirk is truly the most loving and lovable cat I know. He is very interested in people and loves being cuddled a lot. Dirk spends most of his time relaxing with me or anywhere around the house really. He is also quite playful and loves the games that involve interaction the most.