Dog meet the cat. Cat meet the dog. Now go live happily ever after.

If it were only that easy to have your new puppy or adult dog get along with your resident cat, although the task may seem daunting (when your feline is hissing with his claws out at your poor unsuspecting pooch) there are ways to "soften the blow."
In this post, we will cover a few ideas on how to introduce a dog to a cat.
Separate Them
Whether you are bringing a puppy or an adult canine into your home, you will want to have a room prepared just for the newcomer. Place your dog's food, water, toys and a blanket or pet bed to help make him comfy. You can choose to close the door or use a puppy gate. This gives your new fur baby a chance to relax and your resident feline the time to get used to the idea of a dog in the household.
Remember, cats can be very territorial, so be sure to use a room that isn't well used by your feline friend.
Over the span of a few days, each animal should be given their turn investigating the home without the presence of the other pet. Give them around 35 to 45 minutes to thoroughly check out where the other animal has been.
Tip: Feeding both animals at the same time on their side of the barrier or door creates a positive experience for both the cat and the dog.

Use a Leash and/or a Crate

After a couple of days, your cat should be used to the fact that Fido is in the home, so it's time to allow them a bit of freedom. However, be sure to put a leash on the pup or have him in a crate. This is for his safety just in case Fluffy decides to lash out.

Give your cat the freedom to walk around and check out the dog. Be ready with plenty of praise and rewards for good behavior.

It's entirely reasonable if your feline's initial reaction is to hiss. This is her way of showing your dog "who's boss." Cut the visit short if there is any serious aggression on the cat or dog's part, by putting your pup back in his room.

If all is going well gradually give your dog more leash-length. If he has a forceful reaction, correct him by shortening his lead and giving him the "sit" or "leave it" commands. Reward for a job well done.
Tip: Use this process as long as the cat and dog are still nervous around each other or are again showing aggression or just plain over-exuberance.
When can you move forward? When both animals are relaxed, are eating and are fine in each other's presence. Rushing the process could result in fear on both your dog and cat's part.
Extra Tips and Hints
Here are some additional tips and hints that will help the process of cats and dogs becoming future BFFs.
Always use positive reinforcement when it comes to teaching your dog to behave around your resident feline.

It is helpful to have your dog know the

basic commands

of "sit, stay, come and release/drop.

Never allow your pets to eat each other's food. Cat food is high in fat and will create weight gain in your dog. Cats cannot get their full nutritional value in dog food as it lacks some vital amino acids.

Even after the dog and cat are getting along (or at least tolerating one another), be sure there is a safe place in every room where your cat can retreat to. Whether this is a higher-up ledge, scratch post or even under a low bed, your cat needs a secure location in case Fido is getting too rambunctious.


Swapping their bedding is an excellent way to allow both your pets the freedom to get to know the other's scent safely.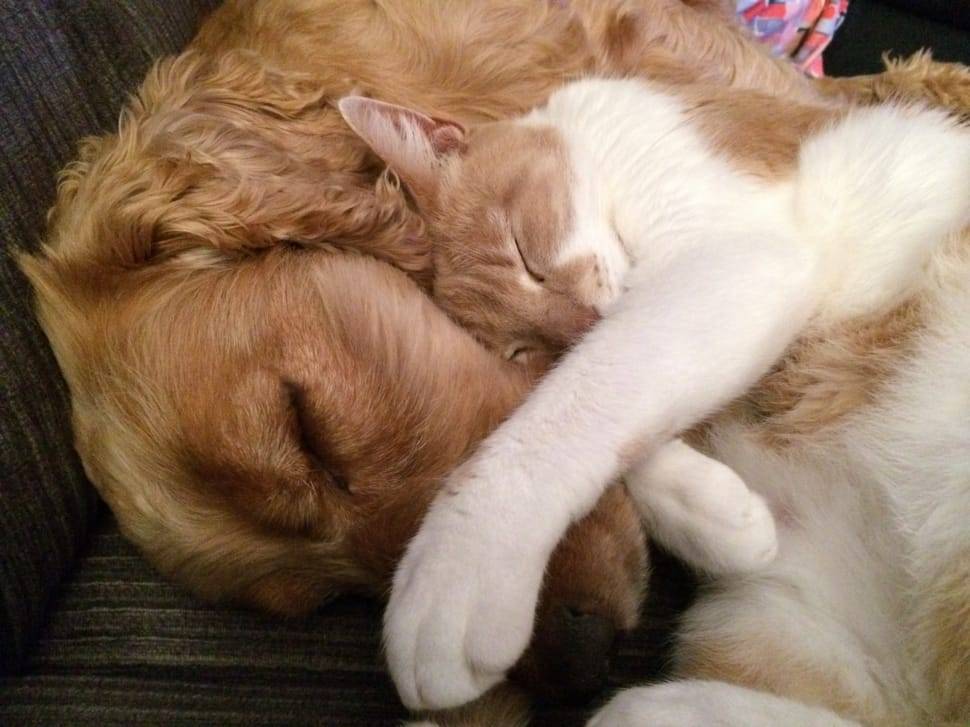 Dogs and Cats Living in Perfect Harmony
Dogs and cats can live together harmoniously; it just takes some time, patience and a little know-how. Never rush the procedure and be sure to keep the two separated until they become familiar with each other's presence. Once this has occurred, keep your dog/puppy on a short leash or in a crate so your cat can check him out in a calm and relaxed manner.
Lastly, remember always to praise and reward when the two are behaving, this will go a long way to building a long and lasting friendship.
Author Bio:
Sandie Lee has been a professional writer for over 20 years and the regular contributor of The Pet God; however, her true love lies in all things animal-related. She resides in Northern Canada with her hubby and three rescue felines.
Advertisements
Click to visit our Shop for the hassle-free Zen Clippers!