When I first moved to Finland husband (boyfriend at the time) and I were living with his parents for a while. Once we were able to move into our own flat, our girls Lola and Maisi came with us.
Very soon after moving we happened to visit the local cat rescue centre for one of their open days. We didn't go with the plan of adopting another cat, but we were open to the idea.
The rescue centre had 5 or 6 rooms, each with several cats in them. I think it was the very first room we went into that we spotted a tabby and white cat curled up on one of the beds. He gave us a curious look, and I approached to see if he'd let me stroke him.
I didn't go to look in any of the other rooms. That cat had accosted me, and took up all my time demanding love. He purred and pushed against me, and even rolled to show me his tummy. I was smitten!
Husband had a look at the information on the door to try and work out which cat he was. One on the list seemed to have a matching description – an older tabby boy by the name of Tesla. I liked the name, and the cat.
As it turned out the list was not up to date. In fact this was a different older (by rescue centre standards) tabby boy. His name was Elvis.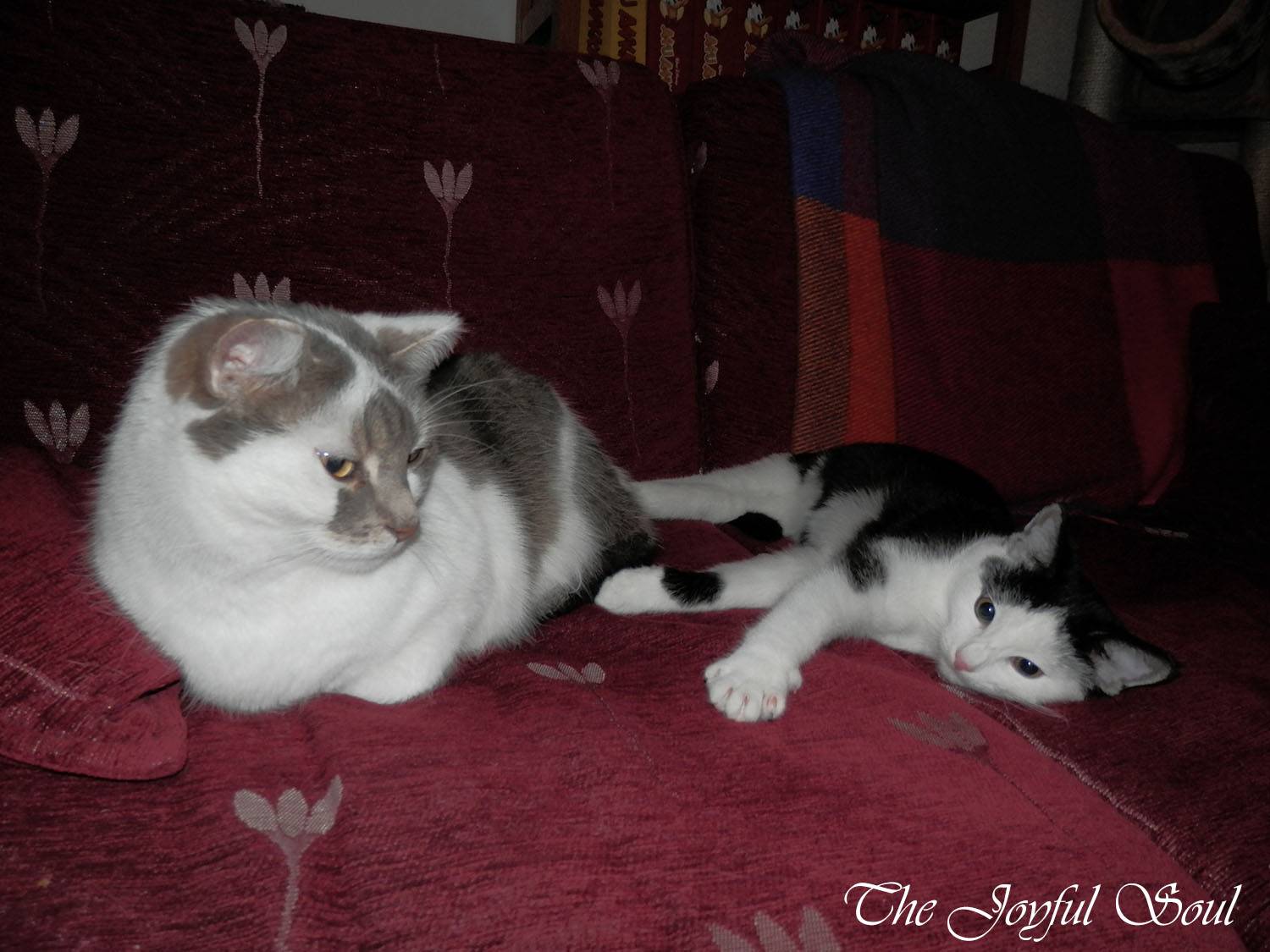 I'll be honest, it's not a name I would have picked. But I was hardly going to let that stop me.
We told them we wanted to adopt him. The problem was, we needed to let the girls settle in to the new flat first. We decided to wait a week.
It was a nervewracking week. I was constantly worrying that someone else would adopt him. Why wouldn't they? He was a lovely, cuddly fluffball!
Thankfully nobody did, which meant we were eventually able to bring him home. Lola and Maisi weren't too impressed with him, despite his best efforts to befriend them once we let them see each other.
When we sadly lost Maisi to a sudden illness nearly a year after getting Elvis, we were all the more glad to have him. Though he and Lola still weren't best of friends I felt (and still feel) that it is good for her to have another feline friend. And I've no doubt he'd be friends with her if she let him – after all, he loved it when we had foster kittens for him to snuggle!
Even now Elvis (or as we tend to call him, Leli) is a friendly, cuddly boy. I can't believe nobody tried to adopt him during that week, given what a wonderful cat he is. But their loss is our gain!
Love,
Lady Joyful
Advertisements
Visit our Shop for top-quality cat toys and cat lover products!
I'm a writer, blogger, cook, mum to three fur-babies, and wife to a wonderful man. I also work full-time as a child carer. I have a series of blogs all under the main heading of The Joyful Soul. In these blogs I explore my love of creativity in various ways.