I want to share with you a story about me traveling with my mom and dad to Milwaukee because my dad was going to have major surgery there. I'll start my story by telling you that I received a Sleepypod to travel in. Sleepypod is pet carrier that is very unique but has been tested for pets so they can be passengers in the restraint system a safety system designed by Sleepypod to secure a pet in a vehicle and restrict harmful movement resulting from a sudden vehicle stop or frontal collision. Every Sleepypod carrier and harness includes PPRS components and features to improve pet passenger safety.
When you receive a Sleepypod the best way for you to get used to it before you travel is to let your pet play with it for about a week. Because if you just put your pet in it first they will always think it's a negative thing like going to the vet instead of a safe fun place to sleep or travel in.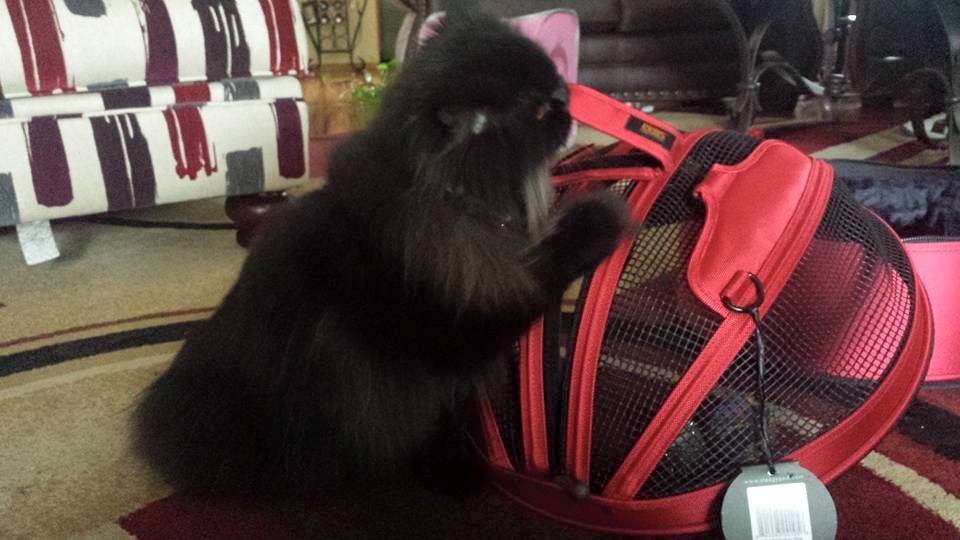 Here's a few examples what I did to get use to the Sleepypod. I sniffed it and even played with the strap.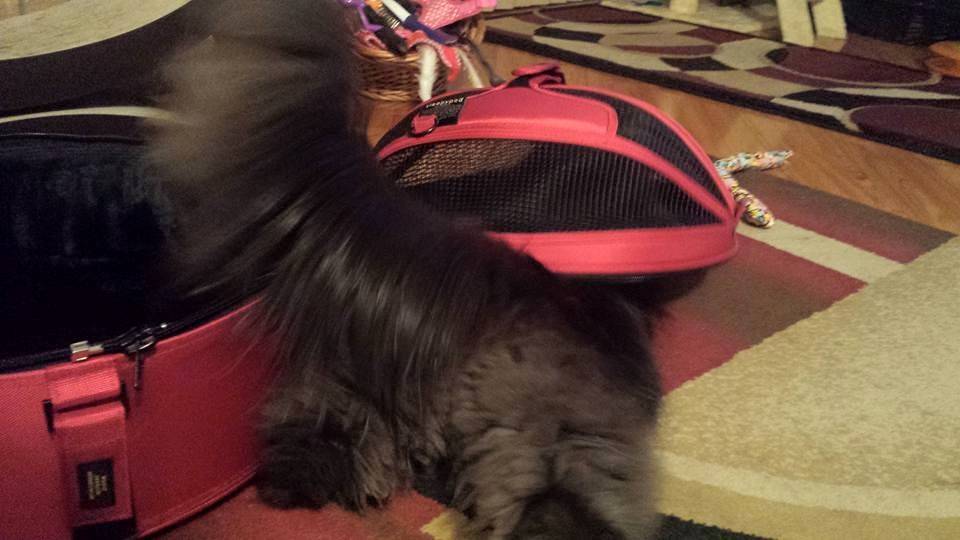 I played soccer using the lid as a goal post. Aha,,, mom you didn't need to use this photo purr…. You could at least put a photo of me making the goal!
Peek a Boo! purr…. playing a peek a boo game will also help….
and hide N Seek…. Well you probably understand how to get your fur babies used to the Sleepypod.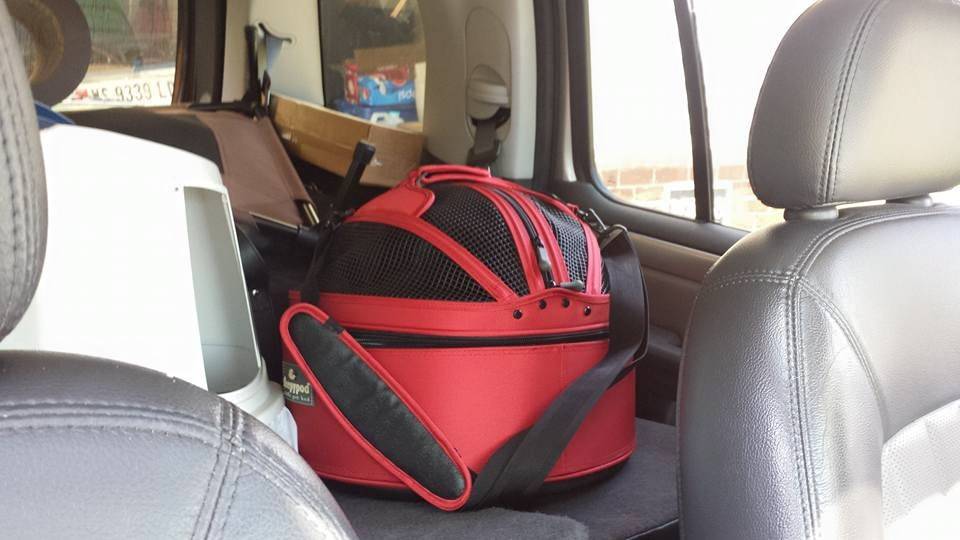 Getting back to my story.
Here you see we are packing the car to start my adventure traveling in the car to our destination. Sleepypod has made sure to protect me and other animals during the joy of driving with pets. All Sleepypod dog and Cat harnesses and pet carriers go through stringent safety tests to include static material tensile testing and dynamic crash testing at the standard set for child safety restraints.
The traveling in the Sleepypod was the easy part of my travels. I had to get use to a new place with new smells and away from my home. I used the sleepypod as bed in the condo blankie and my lounger. purr.. It did help that I had some smells from home. You can also put them in a smaller room until they get used to a new place.
Sleepypod can be accessorized with a four seasons system that includes an Air Mesh hammock to help keep you pet cool in warmer climates and a plug-in Warmer pad to help keep your pet warm in cooler climates.
My journey with the Sleepypod made me feel safe and I would tell all my friends if they were going on a trip that they need a Sleeypod for safety reasons alone, but also to have a bed to sleep where they go. You can go take a peek at the different sizes and colors they offer as well as the accessories by following the link below.. besides go see the youtube video to see everything about Sleepypods they even have a lot of information on helpful tips on your safe travels with your pets.
Website : sleepypod.com
Email : contact@sleepypod.com
Facebook : https://www.facebook.com/sleepypod
Twitter : https://twitter.com/sleepypod
Phone No.: (626) 421-6818
Instagram: https://instagram.com/sleepypod/
Youtube : https://www.youtube.com/user/Sleepypod
P.S.
In conclusion to my story I am home again with mom and dad while dad recovers from surgery and he is doing well and I am happy my journey has come to an end. I would like to say Thank you all for your prayers and kindness of getting me and my family through this journey and Thank you Sleepypod for making my travels more comfortable and safe.
Don't forget to sign up to the Katzenworld Newsletter by clicking here.
See you next Thursday or on my Facebook page here!
Love,
Angel's Eyes-Persian
Advertisements
Visit our Shop for top-quality cat toys and cat lover products!
Angel has a big personality with a big heart. She was born September 24, 2013 in Chicago. She is very smart and learns anything by showing her once. She has won 12 photos contest and also has done advertising for pet tags for A Pets Life. She will play with any toy and would make a great product tester for toys.