Our ten cats have their own play room. That sounds a bit OTT, but let me explain. It's a Toblerone-shaped room about fifteen feet by eight feet and barely five feet tall. I can stand upright in the middle, but only just. When we first moved to this old house over twenty years ago, I wracked my brain for a suitable use for this, our smallest attic. Before I thought of anything sensible, we had adopted a fully grown green iguana and the room was turned into the biggest vivarium I have ever seen, with a three-foot pond and a waterfall in the corner. So not exactly sensible, but a great talking point when anyone came round.
Eddie Lizard spent thirteen happy years in there until we eventually lost her to kidney failure. (Sadly it's as common with iggies as it is with cats). The room lay empty for a couple of years until we adopted three kittens all the way from Constanta in Romania. Their wonderful rescuer has an apartment where she keeps some of her animals and from the photographs and videos she sent on a regular basis, I could see the place was filled with toys. By then the seed had been sown and we set about converting the little room once again and the result can be seen featured above. The room is modelled by (from left to right) Bubu, Pearl, Chai and Buddy. Bubu and Chai are wearing matching red laser dots.
Here is a video of the room in action. It's hard to believe that all the cats here were once badly abused as kittens.
Of course, I simply couldn't stop there and so the toys and trees spilled out around the rest of the house. The larger attic is filled with cat beds, radiator hammocks, three trees and a musical swinging crib I found on Amazon and yes… some of the cats love it! There is a huge plastic storage box at one end, filled with their smaller toys and they love to jump in, rummage around and pick their favourites. As with children, everything is picked up off the floor every couple of days and thrown back in the box, but the place doesn't stay tidy for long.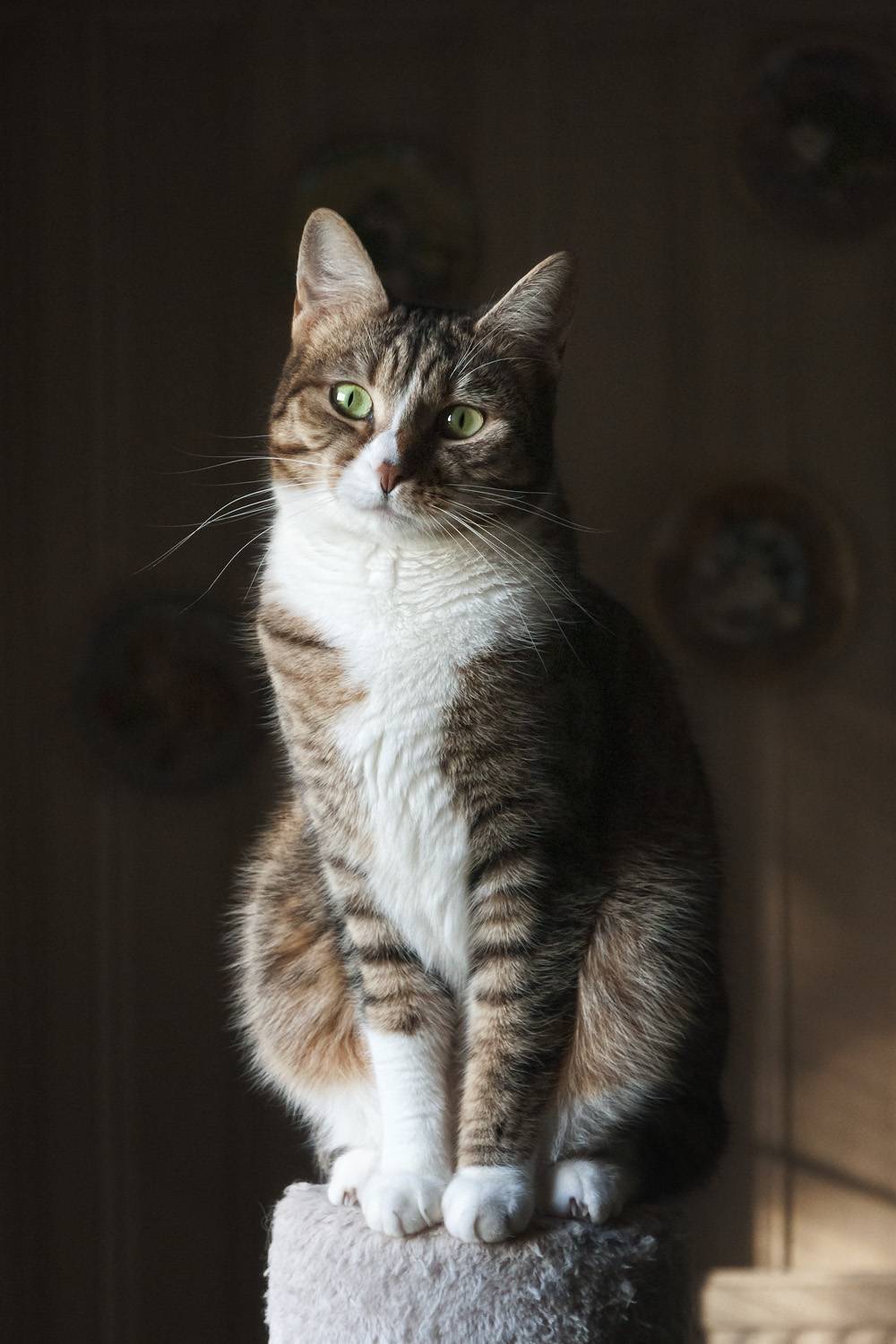 Our bedroom is also home to another tree, even though it barely has enough space for our own furniture. The top has been chained to one of the old beams in the eaves and the cats take it in turns to sleep in the "crow's nest". Little Foxy will actually perch on the beam, although I would rather she didn't. Here is the little minx in a more traditional pose on top of the giant scratching post that lives in the dining room. We have no dining furniture in there, just more toys and beds, but then… if it makes them happy, then we are happy.
About the Author:
Zooey lives on a smallholding in Sussex with her husband, ten cats and many other assorted animals. In her spare time she is a keen photographer and has her own blog Elements https://myelementsblog.com