Freya the Graceful Furry Goddess
Hello, this is Nadia again. After drawing for Renegade, I could not have times to back on my blog and arts due to students' exams. So I took a break for a few months that does not mean I abandoned my hobby and dedication on feline art. Now I am quite free from school stress, so I made a special gift for the newest member of Marc's family. Say hello to Freya, the new daughter of human papa Marc and adopted sister of beloved Renegade.
Freya is a pretty kitten who loves to stay up above her brother Renegade on the cat tree. This spoiled little princess wants to get the best spot of Renegade. She feels her brother can be a Grumpy one. Don't get me wrong! they love each other so much. You can see they are sharing a spot and napping together peacefully. Freya seeks attention from her human papa by climbing up on their lap.
Freya has pretty greyish fur color and also has tabby gene although she is not fully tabby. The thing I love most about her is beautiful big deep blue eyes. They are like Sapphire or just like ocean water. Her eyes remind me of clear blue water and white sand beach. When I draw her Portrait, I want to show a gentle feminine side associated with the beauty of nature. Therefore, I made an outdoor scene. I put land, grass, flowers and white puffy clouds on blue sky. I feel the earthy essence scenery match with her goddess's name. This is my best trying. Please feel free to give advice.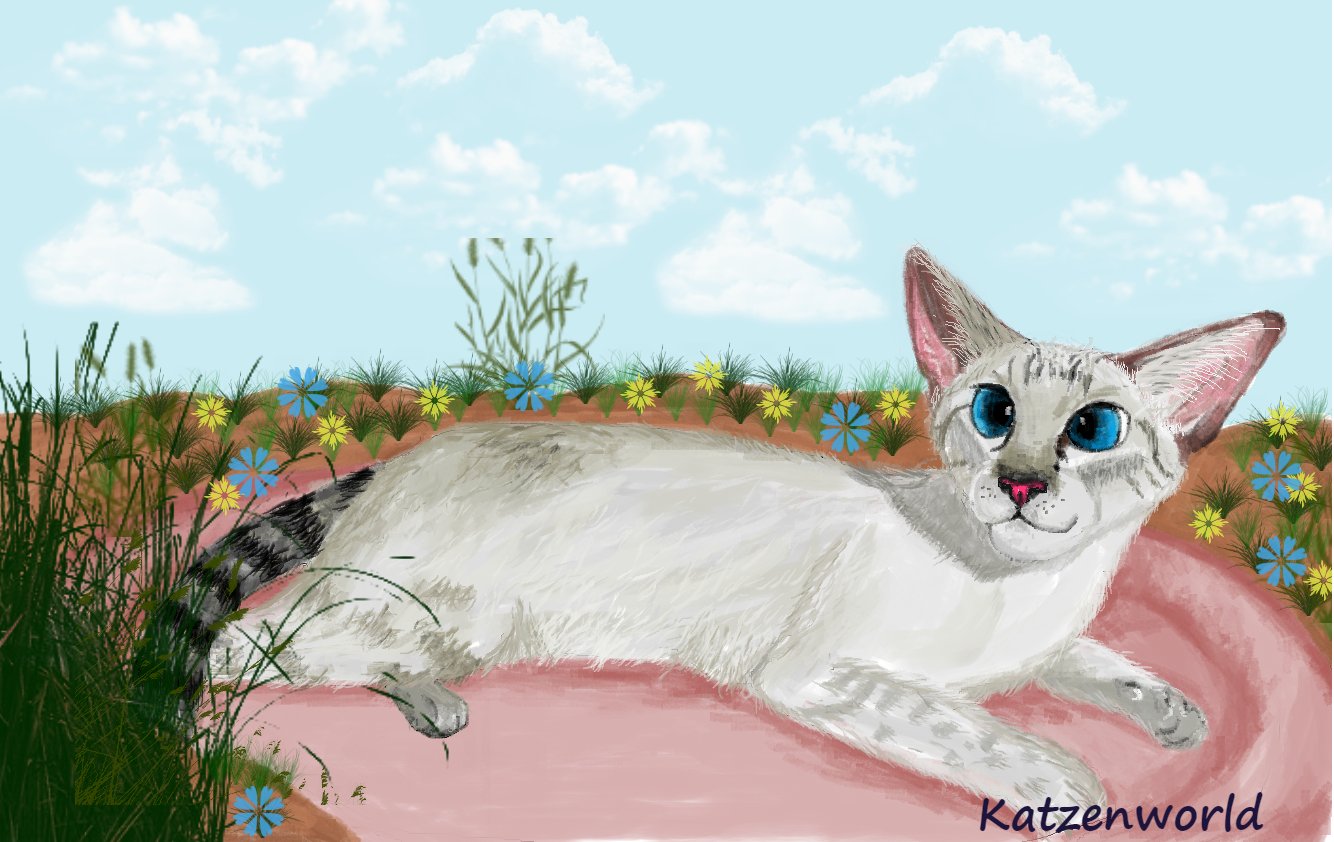 Advertisements
Visit our Shop for top-quality cat toys and cat lover products!
Hey, My name is Nadia Ruby. I am a mother, teacher, and artist. Meoww fan!! Will u vote purrr for the most peaceful sound in universe? join the crazy cat lady's meoww community now.