Stoke-on-Trent – Cat-themed cocktail party to celebrate International Cat Care's 60th anniversary
A  party for local cat lovers – and a homeless kitten drama with a happy ending!
On Saturday 12th May Stoke-on-Trent cat lovers gathered at the Goldenhill Vets4Pets clinic for a cat themed party to celebrate the 60th anniversary of  International Cat Care – a charity that works for owned and unowned cats around the world.
Hosted by Gold Standard Cat Friendly Clinic, Vets4Pets Goldenhill, the party was jointly held with local pet enclosure company ProtectaPet. The afternoon party was aimed at families and there was a bouncy castle, kids' disco and iCatCare's big ginger cat – who was a great hit with the everyone.
For the adults there were cat themed cocktails based on gin from Shropshire based company – Tiger Gin. Nic from Vets4Pets turned out to be quite the cocktail maker – expertly turning out 'Moggies' and 'Purrfections' for everyone. The event was attended by Wendy Turner-Webster, TV presenter and a great supporter of animal charities.
There was an amazing footnote to the day, a little family of abandoned kittens and their mum were rescued and rehomed! The unexpected feline drama happened just as the party was getting started at 2pm. A group of children arrived at the clinic with an open tray containing 3 tiny kittens. The children knew where the mother was but hadn't caught her. Despite wearing a cocktail dress, the party's co-organiser, ProtectaPet's Eve Davies climbed through a nearby hedge to retrieve the sweet natured black and white fluffy girl. Once the family were back together, The Vets4Pets team stepped in, carried out health checks and temporarily housed them in their isolation ward where they could be kept safe and quiet until a plan was made to rehome them.
The party went ahead – with cat themed cocktails, face painting, bouncy castle and kids' disco – but as word went around about the mum and kittens, several homes came forward including Darren Wall (pictured) from Tiger Gin, the company that had kindly sponsored the cocktails. By the end of the event the whole feline family had been rehomed!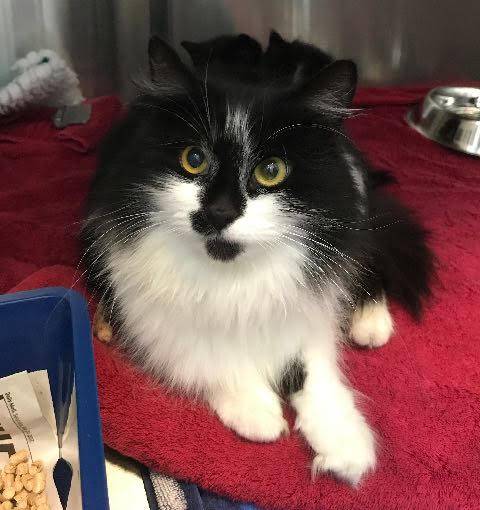 We're so pleased that all the kittens have now been safely homed and the mother cat will be spayed before joining her new home in a few days' time. It was an amazing coincidence that these homeless cats turned up on the very day that the clinic was full of cat lovers. A very happy ending to what could have been a sad story…."
Would you like to hold a cat themed cocktail party for International Cat Care? It's easy and fun! Follow the link and we'll send you a pack with everything you need!  https://icatcare.org/cat-cocktails
Advertisements
Visit our Shop for top-quality cat toys and cat lover products!
We regularly write about all things relating to cats on our Blog Katzenworld!
My partner and I are owned by five cheeky cats that get up to all kinds of mischief that of course, you'll also be able to find out more about on our Blog
If you are interested in joining us by becoming a regular contributor/guest author do drop us a message @ info@katzenworld.co.uk .